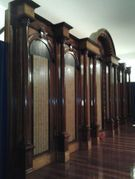 HISTORY
Jezzine Barracks has been  home to Australian military units for over 120 years and is now a fitting home to showcase the Museum and its extensive Collection of the history of the Army in North Queensland
The earliest history of the Army in North Queensland can be traced back to the early 1880's when volunteer Independent Rifle Companies were formed at towns throughout the northern region. On October 30 1886, the 3rd Queensland (or Kennedy Regiment) was gazetted and based at Kissing Point, Townsville, with Major William Slade Vincent as its first commanding officer.
The history of the Museum dates back to 1979, where the North Queensland Military Museum committee of management requested Townsville authorities that Fort Kissing Point be allowed to open as a Military Museum. The Fort operated as a museum until August 2008 when it was closed for further restoration. The North Queensland Military museum was renamed the Army Museum of North Queensland and relocated to its current premises in 2009.
COLLECTIONS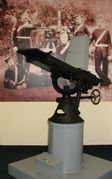 The Collections extend from the establishment of the first defences at Townsville and Thursday Island until the present day. The Museum is in the newly refurbished building at the centre of Jezzine Barracks. Show cased within the Museum are three galleries.
Gallery One focuses on the history of the Australian Army in North Queensland  from the late 1800's till the end of the Boer War.  Displays include a Colonial Officers tent and stories about the defence of North Queensland during the Shearer's Strike.
Gallery Two focuses on World Wars I and II, showcasing the fabulous Honour Boards from both conflicts.  Stories of North Queensland soldiers during the Great War are enhanced by interactive displays and the effects of the  World War Two on the Townsville region.  Displays include interactive World War One trench and western front tunnels and gun emplacements used in Townsville during World War Two .
Gallery Three focuses on more recent and contemporary conflicts including Korea, Vietnam, East Timor, Solomon Islands and the Middle East. Displays include a Korean War command bunker, a gun position from South-East Asian conflicts and a kids command centre play area.
The Museum is staffed by part-time Australian Army personnel, and a team of dedicated volunteers. 

The Australian Army History Unit is responsible for developing policy and programs for the collection, conservation, interpretation and promotion of the Australian Army's history.
The Australian Army Museum Network is a collection of Regional and Corps Museums located Australia wide under command of the Australian Army History Unit. The Network presents a diverse range of military memorabilia tracing Australia's involvement in both war and peacekeeping operations from Colonial times to the present day.